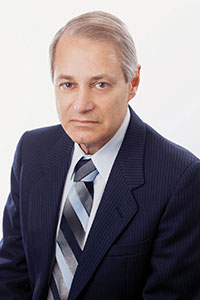 Gary Moscarello, M.D.
Diplomate American Board of Orthopaedic Surgery
Dr. Moscarello is a longtime, well-respected Orthopaedic Surgeon in Arcadia. He has a busy practice in General Orthopaedics with special interest in minimally invasive surgery for hip and knee replacements. Dr. Moscarello also specializes in the preservation of extremities involved with cancer. He is affiliated with both Methodist Hospital of Southern California in Arcadia and City of Hope Cancer Center in Duarte.
Dr. Moscarello is married, has two grown daughters and five grandchildren.
Residency
LA County + USC Medical Center, Los Angeles, CA
Includes rotations to Children's Hospital and Rancho Los Amigos Hospital
Internship
LA County + USC Medical Center, Los Angeles, CA, Orthopaedic Internship
Education
University of California, San Francisco, CA, M.D.
Stanford University, Palo Alto, CA
Military Service, U.S. Air Force Physician
Licensure
State of California
Certification
Board Certified in Orthopaedic Surgery
American Academy of Orthopaedic Surgeons
Teaching Appointments
City of Hope - Orthopaedic Consultant
LA County + USC Medical Center - Attending Staff
Clinical Appointments
Methodist Hospital Southern California, Arcadia, CA
City of Hope Medical Center, Duarte, CA
Academic Appointments
Membership Committee, American Academy of Orthopaedics
Chief of Orthopaedics, Arcadia Methodist Hospital
Chief of Staff, Arcadia Methodist Hospital
Board of Directors, Arcadia Methodist Hospital
Surgical Services Medical Director, Arcadia Methodist Hospital
Memberships
American Academy of Orthopaedic Surgeons
California Orthopaedic Association
International Society of Limb Salvage
Top Doctor, U.S. News & World Report and Castle & Connolly Medical Ltd.