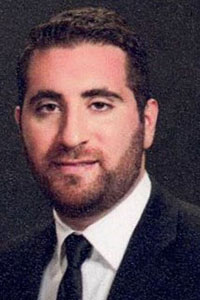 Kevork N. Hindoyan, M.D.
Orthopaedic Spine Surgery
Complex and Minimally Invasive Spine Surgery
Schedule Now
A native of the San Gabriel Valley and the Pasadena area, Dr. Hindoyan received his medical degree from the University of Southern California where he also completed his residency in orthopaedic surgery.
Dr. Hindoyan subsequently was accepted to and completed a prestigious fellowship in complex and minimally invasive Spine Surgery at the world-renowned University of California San Francisco (UCSF) Medical Center. While at UCSF he had the opportunity to train under internationally recognized experts in spine surgery in the departments of orthopaedic and neurological surgery.
Dr. Hindoyan has expertise in the latest technologies and techniques spine surgery has to offer, including: computer navigation, robotic spine surgery and cervical disc replacement surgery amongst other motion preservation techniques. Additionally, Dr. Hindoyan continues to do research on the latest techniques in spine surgery. His work has been presented at national and international conferences and he has numerous peer-reviewed publications in prestigious orthopaedic and spine surgery journals. Dr. Hindoyan has authored several textbook chapters discussing the most current innovations in spinal surgery.
Dr. Hindoyan's goal is to provide the best possible outcomes and quickest recovery for his patients. He first pursues all possible non-operative treatments for his patients and reserves surgery as the last resort. He strongly believes in educating his patients so they have a clear understanding of their diagnosis and their treatment options. He believes each patient is unique and prioritizes their goals of care by working with them to create an individualized treatment plan.
Dr. Hindoyan is truly excited to deliver world-class spine care in a community he holds dear to his heart.
Fellowship
University of California San Francisco
Department of Orthopaedic Surgery
Complex and Minimally Invasive Spine Surgery Fellow
Residency
University of Southern California Keck School of Medicine
Department of Orthopaedic Surgery
Internship
University of Southern California Keck School of Medicine
Department of Orthopaedic Surgery
Medical School
University of Southern California Keck School of Medicine
Doctor of Medicine
Undergraduate Degree
Occidental College
Bachelor of Arts, Biochemistry
Magna Cum Laude
Phi Beta Kappa
Licensure/Certification
Fluoroscopy License, California Department of Public Health (RHB)
Physician's Medical License, Medical Board of California
DEA License
Clinical Appointments
Huntington Memorial Hospital
Arcadia Methodist Hospital
Congress Orthopaedic Surgery Center
Memberships
American Academy of Orthopaedic Surgeons
North American Spine Society
AO Spine
Languages
English
Armenian
Spanish