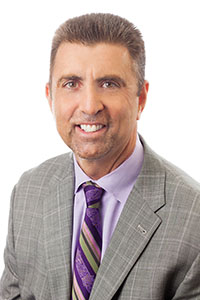 Raymond Gritton, M.D.
Board Certified Physical Medicine And Rehabilitation Specialist
Dr. Gritton specializes in Physical Medicine and Rehabilitation. He performs electrodiagnostic studies at Congress Orthopaedic to help delineate the site and cause of many orthopedic and neurologic injuries and disorders. He also consults on the rehabilitative needs of patients with orthopedic injuries, arthritis, back and neck injuries and disorders, joint replacements, amputations, brain injuries, and neurologic and neuromuscular disorders. Dr. Gritton is the Medical Director of the Acute Rehabilitation Unit at St. Vincent's Medical Center in Los Angeles.
Dr. Gritton is a Diplomate of the American Board of Physical Medicine and Rehabilitation, a licensed Physician and Surgeon in the State of California, and a member of the California Society of Physical Medicine and Rehabilitation.
Dr. Gritton completed his undergraduate degree at California State University, Long Beach, followed by graduate school at Hahnemann University in Philadelphia. He did his Residency at the University of California, Irvine.
Dr. Gritton is a firm believer in fitness and exercise, and a true sports enthusiast. He and his wife enjoy attending various sporting activities, and stay quite active with their three children. Dr. Gritton likes to hit the links at every opportunity.
Residency
Physical Medicine & Rehabilitation, University of California, Irvine, CA (Chief Resident 7/1994-6/1995)
Education
Medical Doctorate, Hahnemann University, School of Medicine, Philadelphia, PA
Licensure
State of California
Memberships
Diplomate American Board of Physical Medicine & Rehabilitation
Licensed Physician & Surgeon, State of California
California Society of Physical Medicine & Rehabilitation
Chairman of Medicine, Glendale Memorial Hospital 2005-2006
Graduate of UCLA School of Medicine Medical Acupuncture Physicians, 2002