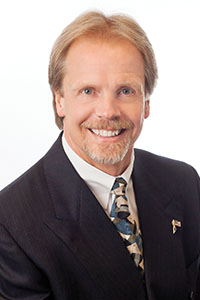 Gregory J. Adamson, M.D.
Sports Medicine Shoulder and Elbow Surgery
[ Go Back ]

Dr. Adamson is subspecialty trained in sports medicine, shoulder and elbow surgery. He is board certified in both Orthopaedic Surgery and Sports Medicine. His surgical practice emphasis is on arthroscopic ligament, tendon, and cartilage repair, as well as reconstruction involving the knee, shoulder and elbow. His non-surgical practice encompasses athletes at all levels of accomplishment and all stages of life.
Sports team coverage has been an important part of his career, having served as an associate team physician for the Lakers, Dodgers, Kings, Anaheim Rams and Angels. He presently serves as the head team physician at Occidental College and as team physician at California State University Los Angeles, Providence Christian College and Eagle Rock High School.
Clinical and basic science research rounds out his clinical practice. He remains very active as a Clinical Professor of Orthopaedic Surgery at USC and is the Program Director for the Congress Orthopaedic Associates Sports Medicine Shoulder and Elbow Fellowship. He lectures extensively on the local, national, and international level, and has published multiple articles in peer-reviewed journals.
Dr. Adamson enjoys time with his wife Cindy and their four sons. He is an avid exercise enthusiast and participates in many winter and spring sports with his family.
Fellowship
Kerlan-Jobe Orthopaedic Clinic, Inglewood, CA
Residency
L. A. County + USC Medical Center Department of Orthopaedics
Internship
L. A. County + USC Medical Center
Education
USC School of Medicine, Los Angeles, CA, M.D.
Stanford University Stanford, CA, BS Chemistry with Honors
Licensure
State of California
Certification
American Board of Orthopaedic Surgery
American Board of Orthopaedic Surgery Subspecialty Certification Orthopaedic Sports Medicine
Academic Appointments
USC Clinical Professor of Orthopaedic Surgery
Occidental College Head Team Physician & Orthopaedic Consultant
Clinical Appointments
Huntington Memorial Hospital - Active Staff
L. A. County + USC Medical Center - Active Volunteer Staff Rancho Los Amigos Hospital
Memberships
American Orthopaedic Society for Sports Medicine
American Shoulder and Elbow Surgeons
American Academy of Orthopaedic Surgeons
International Cartilage Repair Society
Western Orthopaedic Association
California Orthopaedic Association
USC Graduate Orthopaedic Society
Alpha Omega Alpha National Honor Society