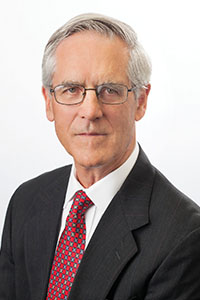 John Quigley, M.D.
Diplomate American Board of Orthopaedic Surgery
Schedule Now
Dr. Quigley has extensive experience in Joint Replacement. He completed the Otto Aufranc Joint Replacement Fellowship in Boston and was Chief of Joint Replacement at Tripler Army Medical Center. Dr. Quigley's practice includes General Orthopaedics and Joint Replacement. In his clinical practice, Dr. Quigley supports non-operative and operative management of Orthopaedic conditions. He is certified by the American Board of Orthopaedic Surgery.
Dr. Quigley has served as a Clinical Professor of Orthopaedics at USC Medical School for over thirty years. At USC he mentors and teaches residents during their orthopaedic residency surgical training.
Dr. Quigley is currently the team physician for La Salle High School in Pasadena. A football and rugby player in college, he now enjoys golf and cycling.
Dr. Quigley has served as the Chief of Staff at Methodist Hospital of Southern California in Arcadia and has been Chief of Orthopaedics there. He currently serves on the Bylaws Committee, Medical Executive Committee and is a proud member of the Hospital Foundation Board.
Dr. Quigley grew up in Arcadia. He attended Don Bosco Technical High School and did his undergraduate studies at Loyola University in Los Angeles before going to St. Louis University for medical school and residency. Following his residency and his time in the United States Army including his Joint Replacement Fellowship, he returned to Arcadia in 1982.
Fellowship
Orthopaedic Fellowship, Joint Reconstruction, Boston, Massachusetts
Residency
St. Louis University Medical School, St. Louis, Missouri
Education
St. Louis University Medical School, St. Louis, Missouri
Loyola University, Los Angeles, California
Licensure
State of California
Certification and Memberships
American Board of Orthopaedic Surgery
American Academy of Orthopaedic Surgery
Clinical Appointments
Methodist Hospital Southern California, Arcadia, California
Academic Appointments
University of Southern California School of Medicine/Orthopaedic - Clinical Professor
US Army - Chief of Joint Replacement, Tripler Army Medical Center
La Salle High School, Pasadena, CA - Team Physician