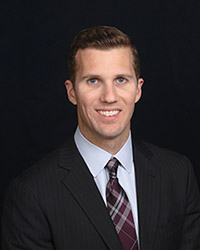 Timothy J. Jackson, M.D.
Comprehensive Hip Surgery
Schedule Now
Dr. Jackson specializes in arthroscopic surgery of the hip and hip replacement surgery. His post residency training included two fellowships; Sports Medicine and Hip Surgery and serves as the foundation for his approach to the hip. Since 2013, he has been performing a wide range of surgery for the hip and surrounding disorders, including hip arthroplasty through anterior approach, hip arthroscopy, endoscopic tendon repairs around the hip, hip fractures and sciatic neurolysis. He continues to contribute to the growing field of hip arthroscopy by giving lectures and presenting research nationally and internationally, serving as a reviewer for orthopaedic research publications and publishing numerous peer reviewed articles. He currently serves on the Editorial Board for Arthroscopy Journal.
Dr. Jackson maintains academic and teaching affiliations with the Congress Medical Associates Sports Medicine Fellowship and the American Hip Institute. He is a member of the American Orthopedic Society for Sports Medicine, Arthroscopy Association of North America, International Society of Hip Arthroscopy, and American Academy of Orthopedic Surgeons.
Diagnosis
Athletic hip injuries
Hip impingement
Hip labral tears
Hip instability
Snapping hip
Trochanteric bursitis
Abductor tendon tears
Hamstring tendon tears
Piriformis syndrome
Treatment Services
Ultrasound guided cortisone injections
Ultrasound guided PRP injections
Hip arthroscopy
Hip endoscopy
Anterior hip replacement
Posterior hip replacement
Education
Medical School
University of Texas Medical Branch, Galveston, TX, Graduated with honors
Undergraduate, Biomedical Science
Texas A&M University, College Station, TX, Summa cum laude
Graduate Training
Intership
University of Southern California
Surgery
Residency
University of Southern California Orthopaedics Surgery
Fellowship - Sports Medicine
Congress Orthopaedic Associates
Gregory Adamson M.D., James Shankwiler M.D., Michael Fraipont M.D.
Fellowship - Comprehensive Hip Surgery
American Hip Institute, Hinsdale Orthopaedics, Chicago, IL
Benjamin Domb M.D., Justin LaReau M.D.
Team Coverage
University of Southern California, Men's Volleyball, 2010
University of Southern California, Women's Basketball, 2009
Occidental College, Football 2011
Pasadena City College, Football, 2015-Current
Eagle Rock High School, Football, 2011
Hinsdale High School, Football, 2012
Chicago Sky, WNBA, 2012-2013
San Marino High School, Football, 2013-2017
Memberships
Arthroscopy Association of North America
American Orthopaedic Society for Sports Medicine
American Academy of Orthopaedic Surgeons
International Society of Hip Arthroscopy