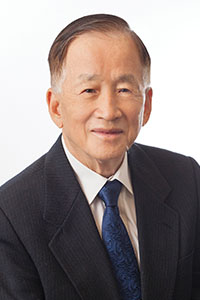 In Chang Kim, M.D., F.A.C.P.
Diplomate of the American Board of Internal Medicine / Rheumatology
Dr. Kim was born and raised in Korea and came to the United States in 1953 as an exchange student. He has turned his experiences as a young man during the Korean War into a lifetime of service eliminating pain and suffering for others.
He ran a successful private practice in medicine and rheumatology in Pasadena for 30 years. After his retirement, he joined the Congress Orthopaedic Associates as a resident internist and rheumatologist because of his long association with the group's founders. Dr. Kim performs pre-operative evaluations and participates in post-op care.
Dr. Kim was chair of the Huntington Hospital Pharmacy, Therapeutics and Dietary Committee for many years. He served as Chief of Medicine for two years. For decades, he was a valued attending physician for the teaching program of the hospital's Internal Medicine Residency Program. Quite a few of his former students have become pillars of the Pasadena medical community.
He also served as an attending rheumatologist at the USC-LAC General Hospital and attained the ranking of Clinical Associate Professor at USC. His life-long scholarship led to his being elected as Fellow of the American College of Physicians.
He enjoys photography and editing home-made family movies. He has two sons and three grandchildren. Dr. Kim loves classical music, devotes significant effort to improving his foreign language skills and is a practitioner of Tai Chi Chuan.
Fellowship
Boston University School of Medicine, Boston, MA - Rheumatology
Residency
State University of New York Upstate Medical Center, Syracuse, NY, Internal Medicine
Internship
State University of New York Upstate Medical Center, Medical Internship
Education
Washington University School of Medicine, St. Louis, MO, M.D.
University of Evansville, Evansville, IN, B.A. in absentia
Licensure
State of California
Certification
Diplomate of the American Board of Internal Medicine
Diplomate of the American Board of Rheumatology
Academic Appointments University of Southern California, Los Angeles, CA, Associate Clinical Professor of Medicine
University of Southern California, Assistant Clinical Professor of Medicine
State University of New York, Syracuse, NY, Assistant Professor in Rehabilitation Medicine
Boston University School of Medicine, Boston, MA, Assistant in Medicine
Boston University School of Medicine, Teaching Fellow
State University of New York, Assistant Instructor in Internal Medicine
Clinical Appointment
Huntington Memorial Hospital
Memberships
American College of Physicians (FACP) American College of Rheumatology California Medical Association Los Angeles County Medical Association